Yes...that's right.
So our very own Despard made a goooooooorgeoussssss illustration that totally upped the original, in which Les Amis de L'ABC were depicted as a group of 50-year old men, which made me want to draw my own kakka version.
This:
http://www.mtholyoke.edu/courses/rschwa ... lesmiz.jpg
(Terrible quality, I know.)
On deviantART, I made a very gratuitous announcement full of typical knightly emotion and *ahem* enthusiasm about attempting to tackle this...thing. (Of course, I'll never be able to surpass Mlle Despard, but looking at all of this 50 year old manisme drove me mad like Marius worshipping Napoleon.)
I've discussed the idea of creating a 'challenge' with Cary and Despard on the (f)art site, and it would be faaaaaabulous if more people from this fandom would come along and join the shenanigans by remaking that illustration.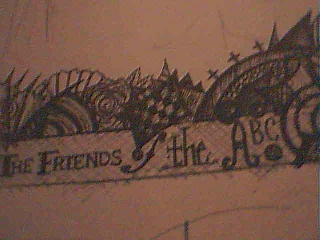 (This is a sneak preview of the kakkanen rendition I'm currently working on, just to show and prove that I am being a serious kid.)
I cannot wait to see everyone's illustrations!