Please feel free to move this to a more appropriate section (I couldn't find a "Les Mis Merchandise" thread!)
I just bought this GORGEOUS "Les Mis" scarf from Storiarts. As you can see, it has the "candlestick scene" from the book printed on it: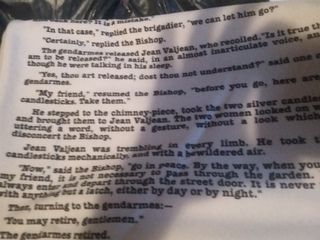 Storiarts is on Etsy, and they also do other products and other literary classics.
I had previously ordered a "Les Mis" scarf from Litographs (another company that prints excerpts from classic literature on shirts, scarfs, bags, etc.), but I wasn't happy with that one, because the excerpt they used was from the "Waterloo" chapter. Even though that IS part of the book, it's not obvious to the casual viewer that it's an excerpt from "Les Mis," because it doesn't mention any of the "Les Mis" characters. I like the Storiarts one better, because it includes the name "Jean Valjean" several times, and the candlestick scene is iconic and memorable to anyone who's read the book, seen the musical, or seen ANY movie version.
Just wanted to share!