So, I was never very good at identifying which Ami is which on the Tenth Anniversary Concert DVD, so I thought I would make a little something up for those who have made similar comments.
This should hopefully help you tell which one is who and find out a little bit more about each of the actors. Not intended to be an exhaustive bio and I've probably made heaps of mistakes, but hey! Maybe it will stop you thinking Combeferre is the one who sings the start of Drink With Me!
Enjolras - Michael Maguire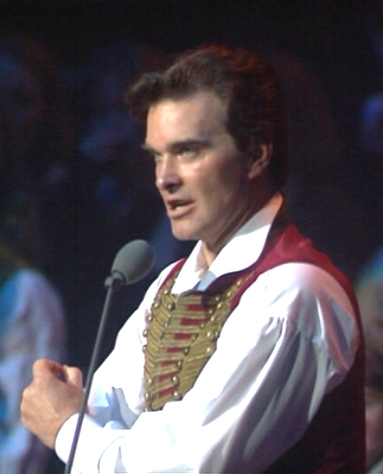 Connection with Les Mis: original Broadway Enjolras, winning a Tony for the role
Other career highlights: Played Kes' dad in an episode of Star Trek: Voyager, and a number of other tv roles. Doesn't seem to have done much else of note in theatre though, though he was in a production of A Little Night Music that was broadcast on PBS. Was a stockbroker before he was a performer and now has a law degree.
Combeferre - David Bardsley
Connection with Les Mis: Played Combeferre, Grantaire, Enjolras and understudied Javert in London. Also played Enjolras on tour and at the Chelmsford Concert. The internet tells me he even understudied Valjean in London, though I haven't heard anything of him having played the role.
Other career highlights: Was one of the eponymous brothers in Blood Brothers. Currently performing in Billy Elliot, where he is an alternate in the part of Billy's Dad and used to share a dressing room with Killian Donnelly (there are adorably cute pictures of the pair of them <3).
Courfeyrac - Jerome Pradon
Connection with Les Mis - Marius in the Paris Revival Cast, also played Javert in the West End
Other career highlights: Played Judas in the filmed remake of Jesus Christ Superstar. Was in the original London cast of the Lord of the Rings musical as Aragorn *snort* and Martin Guerre. Also played Chris in Miss Saigon, meaning he's done all three of the big Boublin & Schonberg musicals. Recently performed in Follies in Toulon with Fra Fee, which is a very Les Mis sentence to type.
Feuilly - Matthew Cammelle
Connection with Les Mis - Played Prouvaire, Feuilly, Marius and Enjolras in London, and Marius at the Chelmsford Concert
Other career highlights: Played Raoul in Phantom and was also a standby for the Phantom. Now makes good use of those credits in Three Phantoms, spawning many pictures of him as the cute straight man to the craziness of John Owen-Jones and Earl Carpenter.
Jean Prouvaire - Peter Polycarpou
(he gets a gif, just because. Come on guys, an OLC performer deserves something a little extra)
Connection with Les Mis - Prouvaire in the Original London Cast. Later played Grantaire and Thenardier. Also played the Pimp in the 25th Anniversary Concert (which was part of his ensemble track in the OLC)
Other career highlights - Outside of theatre, he might be most famous for being one of the jailed husbands in the 90s UK sitcom, Birds of a Feather. He has also played John in the OLC of Miss Saigon, Phantom in The Phantom of the Opera, Beadle Bamford in the Chichester run of the Michael Ball Sweeney Todd and Ali Hakim in the filmed National Theatre production of Oklahoma! with Hugh Jackman.
Joly - Darryl Knock
Connection with Les Mis: Played Marius in London
Other career highlights: Played Edgar Linton in the Cliff Richard musical Heathcliff and on the video of it. Also appeared in the ensemble of the West End production of Anything Goes that featured Elaine Paige and John Barrowman in leading roles.
Lesgles - Mike Sterling
Connection with Les Mis: Played Feuilly and understudied Enjolras, then moved on to play Marius, all in London. Returned a decade later to play Valjean. Played Marius on the UK tour and on the Manchester CD, and Combeferre at the Chelmsford Concert.
Other career highlights: Like Matt Cammelle, has also played both Raoul and The Phantom. In Mike's case, he's performed both roles in London and on tour.
Grantaire - Anthony Crivello
Connection with Les Mis - Original Broadway Grantaire, who went straight on to play Javert once Terrence Mann left.
Other career highlights: Won a Tony award playing Valentin in Kiss of the Spider Woman. Well known for playing the title role in The Phantom of the Opera in Las Vegas. Also played a mobster in the soap One Life to Live, according to wikipedia, which gives some fantastic mental images of mafioso!Grantaire