Sorry for starting ten bazillion threads; I'm bored and I need a distraction.
Posting some rather crappy wallpapers I've made; my artistic abilities are somewhat lacking but hey, if you want them, grab 'em. They're all 1024x768 as that seems to be the norm; if anyone wants another resolution do let me know. (I had to resize them as the resolution on my computers are 1600x1200 and 1200x900, so let me know if anything looks weird as well.) Thumbnails, clicky for full version.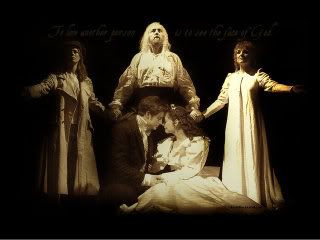 This one should be rather self-explanatory. Picture is of the 2005/2006 London cast; John Owen-Jones as Valjean, Kerry Ellis as Fantine, Shonagh Daly as Éponine, Hayden Tee as Marius and Julia Möller as Cosette.
Picture as above, tweaked by me 'cause I thought it'd be cool. Erm. Quotes from the book (McAfee/Fahnestock translation); if you can't tell it says "I could see that she was happy and that she was with the man she loved. Her happiness was the aim of my life. Now, may God beckon me away. Cosette, you are happy; my time is done."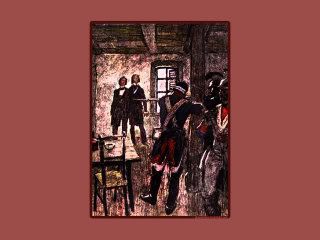 Illustration from a Russian (?) edition of the book for "Orestes Fasting and Pylades Drunk". Quote that is barely visible says "Tu sais que je crois en toi"; a very touching line that NEVER MADE IT TO THE ENGLISH TRANSLATION. Ahem. Sorry, it's a sore spot. Meaning "You know that I believe in you", for those of you who don't speak French.